One word that comes up often in the rhetoric of marketers, and which warns of the troughs in a successful digital campaigns, is "sticky" – that capacity to hold audiences.
The landscape of digital / online content has grown exponentially during the coronavirus pandemic. But as marketing rhetoric would advise: it's not enough to get noticed, you need to be remembered.
With the easing of restrictions and some arts organsiations starting to open their doors to audiences, we ask how sticky has their digital pivot been, and will this content enter core programming moving forward?
Director Art Gallery of NSW Michael Brand said: 'That is a major question for us in our executive meetings – to ask how it will go on beyond this week when we opened our doors.'
THE RISE OF THE PIVOT
What this pandemic has taught the arts and culture sector is that this new online world is more democratic – location and size are less important over connectivity. But perhaps the greater lesson has been a more introspective one.
Organisations have been forced to take a good look at themselves, and where they place value.
Justin Paton, Head curator, International art at AGNSW explained: 'All the big institutions love putting on a show – and will not stop doing that – but we have moved into a more thoughtful environment, with a freedom to contemplate in other ways. I am hearing this from so many colleagues.
'My feeling at this cusp moment – this back to business feeling we are facing – is let's not lose these critical thoughts, and the potential to carry them on,' Paton continued.
It was a sentiment shared by the Melbourne Symphony Orchestra (MSO), which was one of the first performing arts companies in Australia to get up a streamed project as organisations were closing their doors.
An MSO spokesperson told ArtsHub: 'Before our performance venues closed, our YouTube following had approximately 1,500 subscribers. Since then, our YouTube subscriber base has grown to more than 14,000! '
They continued: 'Digital content for our growing and diverse audience – including those who may be unable to return to the physical hall – is increasingly important for the MSO's way forward. Being able to offer virtual concerts to audiences has expanded the MSO's reach around the world, and connected with a more digitally-engaged audience than we could have ever hoped to in such a short amount of time.'
From Thursday, 18 June these livestreams will continue to be broadcast on a weekly basis.
Blue Mountains Cultural Centre (BMCC) in regional NSW, similarly reported a spike with a 200–300 per cent increase in engagement through their Virtual InSight program during closures.
BMCC Artistic Program Manager, Sabrina Roesner, told ArtsHub: 'As we are throwing all this content out, we are trying to collect stats on what works and what doesn't, and we will filter through that content once we are settled back in to a routine to gauge what was the core content, and how it might work well and be realised into our program.'
Read: The pressure to go digital offered unexpected wins
Taking a different tactic, AGNSW was a little slower to release its COVID online offering, Together In Art, but has done so as a separate micro-site so that it can remain as engaged content.
Brand told ArtsHub: 'These spaces do not take three years to program. You can get on the wall and share across all places at all times… Our digital channels, not just the website, become a program in their own right, rather than just a broadcasting of what's on.'
AGNSW has commissioned artists and performers to make new work for Together In Art, through their Pocket Exhibitions and by inviting singers to come into the gallery space and perform during closure.  
Read: Art Gallery of NSW finds new possibilities in the digital realm and beyond
Paton added: 'For any given show, what if sound and music or collaboration with a dance company are a natural part of what you do, rather clipped on to a program. There has been a generous, sociable, heartfelt energy for what artists bought to the program during closure. We have to capture that beyond this moment.'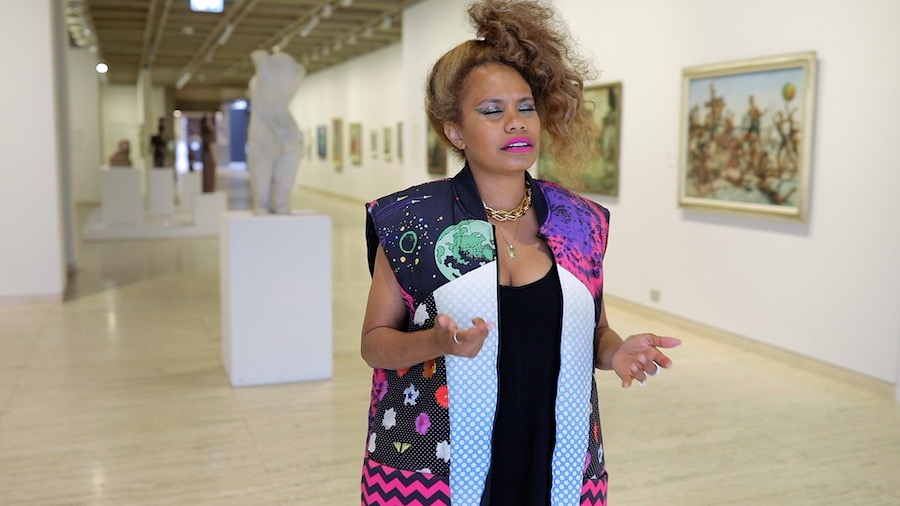 Papua New Guinea-born Sydney-based soul singer, Ngaiire, performs at AGNSW during the gallery's temporary closure. Together In Art. Image supplied.
PROGRAMMING WITH LEGS
Like the MSO, the National Gallery of Victoria (NGV) was quick out the gate with their online pivot.
An NGV spokesperson told ArtsHub that much of their online programming will continue for our audiences after reopening.
'We have been encouraged by the overwhelmingly positive response to the offer in recent months. When we re-open we will have more of this online programming live streamed from the gallery, for example we will continue recently created Art in Focus curator talks series and Secret Life of Art conservation insights series, from the gallery spaces for audiences at home.
'Our already existing Drop-By Drawing series was recommissioned for online audiences and will continue to be accessible on the NGV Channel platform,' they added. 'We know that the online programming has been and will continue to be a vital part of NGV's offer.'
NGV's Virtual Exhibition Tours have been seen more than 308,000 times.
NGV continued: 'Our Virtual Excursions for students have had more than 11,700 students and teachers across 229 schools booked since we closed temporarily closed on March 16. And there have been more than 56,500 downloads of kids activity sheets and eBooks from the NGV Kids page on our website. We hope to continue and broaden our digital offer to provide meaningful engagement with the NGV Collection and programs online.'
COMMISSIONING FOR A NEW FUTURE
'What's fascinating to me, is that these digital platforms have been used usually to promote or commentate, but those digital platforms can, equally as much, be the art,' Paton told ArtsHub.
'There's not a museum on the planet that doesn't ask itself what it should be, and how it should be in the 21st century. But the closure has made us push up against those questions in a really acute way.'  
He believes that the pivot we were all forced to make during COVID-19 closures was a 'circuit breaker'.
Most arts organisations have understood the potential of a digital offer to take them beyond their physical footprint. Now, they understand the greater capacity of what that offer might look like, and can be in their core programming.
MSO commissioned composer/arranger Joe Twist on an arrangement of Waltzing Matilda for their virtual choir project. 'This video has been seen by almost 200,000 viewers around the world, making it our most-watched video ever. It even found its way onto Finnish TV!'
Waltzing Matilda Virtual Choir Performance. MSO YouTube channel 191,518 views. Premiered Apr 24, 2020. #KeepTheMusicGoing
In response to this success, MSO's Assistant Librarian, Luke Speedy-Hutton, has arranged AFL club theme songs for a project to be unveiled on 10 June, ahead of the return of the footy. This is an example of how digital commissions are entering core programming as a way to reach new audiences.
'We have been working towards a digital shift over the past year; COVID-19 certainly sped the process up and we're excited at the prospect of where this move will take us,' added MSO.
Similarly, the NGV has had success with its virtual excursions hosted by their art educators, which will continue in the post-COVID climate to allow those students and teachers wanting to participate and experience the NGV Collection and exhibitions remotely. 
'We have seen new and existing audiences engage in this content both on a local level, a regional Victorian audiences and a global scale,' the Gallery told ArtsHub.
It falls in line with thinking expressed by Brand. 'It is interesting the role of architecture – I first came across this friction of architecture and this idea of an art museum wanting  to slow people down a bit with MoMA (Museum of Modern Art, New York). We've become so processed – buy a ticket and force people through the exhibition. A lot of this online programming has a particular view to slow you down – to take a different view of the gallery.'
For many we spoke to for this article, their digital pivot was about taking stock and doing more meaningfully engagement, and recognising those first principle questions – "Who are we beyond the architecture? – that there was a recalibration going on for a brighter future.
NGV added: 'We have been able to explore the NGV Collection in deeper ways, for example a curator was recently able to give insights into 40 works in a 25-minute online lecture, which gave audiences an opportunity to hear about more works (without the physical constraints of exploring multiple gallery spaces). We have seen audiences respond well to accessing the content in their own time, and from anywhere. And we have seen new audiences engage online in this time which is encouraging to see.'
Later this month, NGV will be launching a range online adult learning courses and live tutorials as part of their core suite of education programs.
The consensus is clear. All that manic and hard work to pivot online during COVID closures has been worth it – not just for the spike in UV's and engagement – but it better, stronger and broader programming moving forward.