Nitram director Justin Kurzel remembers vividly the mix of fear and unease he felt when he got a message from his frequent collaborator and writer, Shaun Grant, that he had written a screenplay based on the 1996 Port Arthur Massacre. The thought still makes him wince with discomfort, Kurzel tells ScreenHub via Zoom.
'I received an email out of the blue from Shaun. It was Nitram. I was very apprehensive about reading it and quite shocked.'
As a 'frequent flyer' to Tasmania for more than 25 years, along with his wife, (Tasmanian-born) actor Essie Davis, Kurzel was extremely wary of making a film based on the mass killing, which ripped through the entire country and changed the Australian psyche forever. That trepidation, along with the need for care and sensitivity, was part of the reason Nitram (the Port Arthur killer's first name backwards) was almost a decade in the making.
But when Kurzel began to read Grant's screenplay his fears were allayed, and his reaction completely changed. He remembers having the same reaction when he took on Snowtown (2011), another historically inspired film about a brutal killer.
Kurzel felt compelled to make the film. He had to do it.
'After I read it, I felt as though I had to make it even though I was sort of terrified by it. What Shaun had written was so powerful, I thought to myself, I pretty much have to make it now.'
Nitram (pronounced Nit-ram), crucially, rather than depicting the massacre itself, examines the factors which surrounded the lead up to one of Australia's worst modern massacres and looks at the early life of the Port Arthur assailant (played by rising American star, Caleb Landry-Jones).
The film follows the disturbed gunman's dangerous and destructive life with his elderly, unengaged parents (Judy Davis and Anthony LaPaglia), which changes dramatically, upon meeting the strange and reclusive heiress, Helen Harvey (Essie Davis). When that relationship ends abruptly, Nitram spirals rapidly into a chain of violence and chaos.
The film examines the run-up to the event and raises important questions about how the shooting happened and the need for gun reform; how easily these weapons can fall into the wrong hands through loose access to firearms.
Kurzel says these considerations fed into his determination to make the film, which he produced alongside Grant, and GoodThing Productions' Nick Batzias and Virginia Whitwell.
A dark chapter in Australian history and the compulsion to tell it
Now based in Tasmania with his family, Kurzel was deeply sensitive about the responsibility he had as a filmmaker to his adopted community. The director harboured significant concerns and was conflicted about depicting the Port Arthur killings.
'I'm not Tasmanian but I'm living here as my wife is Tasmanian and it feels like this is a place that I want to spend the rest of my life. So, I obviously felt extremely nervous about making the film and the last thing I want to do, was to (reignite) the still ongoing trauma, in a place that I love so much. That responsibility weighed heavily.'
Even with the passing of time, Kurzel has witnessed first-hand, how the 'unmentionable' event still impacts the Tasmanian community hugely.
Read: Film Review: Nitram is hard to pin down
This was a recurring subject which he and Grant couldn't shake from their minds and continued to debate. Both were haunted and their consciences pricked, every time a senseless massacre was reported in the news, particularly Grant who was living in the US at the time, where fatal shootings seemed to occur, virtually daily.
'The shock of the Port Arthur Massacre was seismic and profound. It was a continuing nightmare,' says Kurzel. 'So, what happened that day and the consequential [Australian] gun law changes, was really critical.'
Kurzel examined the statistics of gun violence and the issue of gun reform and the ease of obtaining dangerous, automatic weapons in Australia, the rise of violent gun attacks around the world and the proliferation of weapons. Learning these facts drove him to take on the responsibility of relaying the story which emphasises the importance of gun laws and gun law reforms.
'I didn't realise that the reforms (implemented after the Port Arthur Massacre) were softened. I wasn't aware that there have been active cases of gun lobbyists trying to change those reforms. Or that there are more guns in Australia now than in 1996. I kept thinking, should we talk about that day? Should we have a discussion and conversation about it? I felt as though I had to make it.'

Justin Kurzel
'I didn't realise that the reforms (implemented after the Port Arthur Massacre) were softened. I wasn't aware that there have been active cases of gun lobbyists trying to change those reforms. Or that there are more guns in Australia now than in 1996. I kept thinking, should we talk about that day? Should we have a discussion and conversation about it? I felt as though I had to make it.'
Quoted in the press notes, Kurzel describes the film as an attempt to deal with 'how gun laws can be exploited by the most vulnerable and dangerous'. The 1996 shootings damaged and lacerated Tasmanian victims, their families and community and still impacts on emerging generations.
Facing hurdles on and off the set
Due to its controversial subject matter and its complexities, Nitram was rife with challenges. Kurzel says it was by far the most difficult film he had worked on – both on and off the set.
Juggling his own internal doubt, and that of his production team and critics, Kurzel had to ensure the film's authenticity while minimising the pain and potential harm, exacerbated by Covid lockdowns.
The movie faced backlash due to its subject matter from survivors, media, spectators and other filmmakers and others, and even the Australian Prime Minister Scott Morrison, with many calling for the film to be boycotted. Within two days of filming beginning, there were calls to shut down the film.
One of the biggest challenges of the production was when the location of the most important scene in the film, a gun shop, was withdrawn due to the media scrutiny, less than twenty-four hours before schedule.
'We were scrambling to find a replacement,' says Kurzel.
That pivotal scene was where the eponymous and disturbed Nitram, without any appropriate checks, ID or so much as a form, purchases two assault rifles 'like fishing rods' as Kurzel says.
Despite the challenges, Kurzel held firm, quickly regrouped and found a replacement. The scene clarified everything for him.

'The way in which Caleb walked in nonchalantly, bought the guns. It was so shocking and casual. It was immediately clear, why we were making the film.'
Working with a dedicated cast
One of the most talked about aspects of the film is its casting of the central character, Nitram. Kurzel, who is renowned for his plucky casting, engaged Texan-born star Caleb Landry-Jones (Get Out) as the murderer. It was a gamble that paid off for the filmmaker, earning Landry-Jones the prestigious 2021 Best Actor Award at Cannes.
Kurzel says the actor's dedication, attention and professionalism were second to none.
'Caleb brought an outside perspective to the work, but he was also incredibly inspiring to be around. He's not on set thinking about his next film. We had someone that was wanting to give it all and it was an absolute delight to work with, someone who values acting and values that focus, and desperately wanted to be on set every day to act.'
One of the real rewards of the film was working with highly respected, veteran Australian actors Judy Davis and Anthony Lapaglia and Essie Davis. Kurzel says each of the cast were equally as sensitive and committed to the material.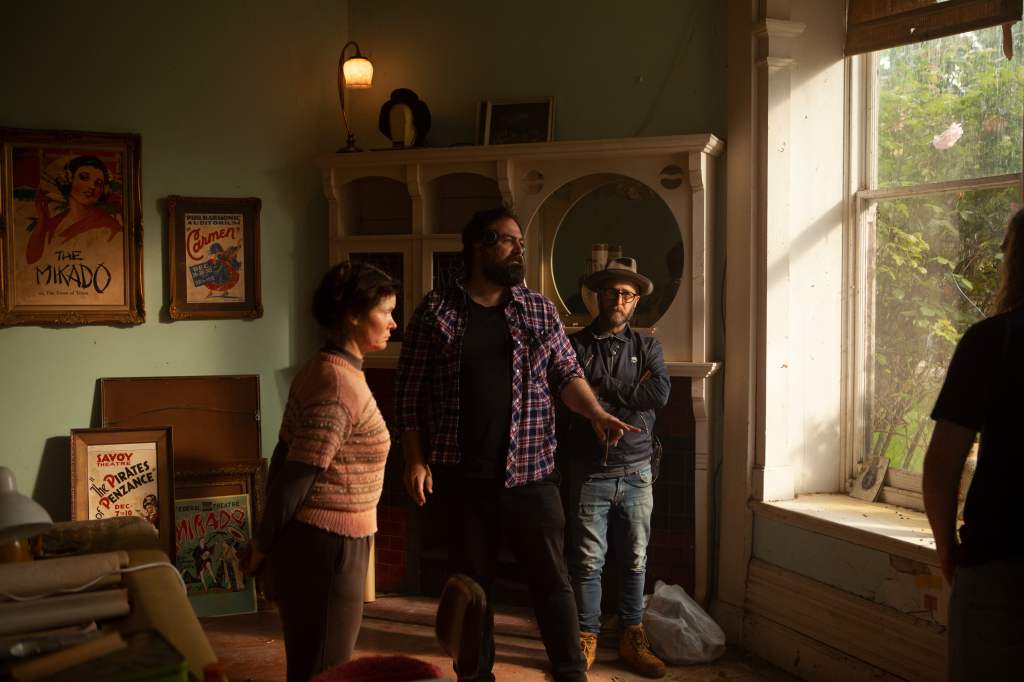 'They were all a hundred percent in, and each of them is fiercely intelligent, incredibly experienced and bring an analytical perspective. For example, the way Judy would talk about the role of the mother in the tragedy.'
Read: Putting Ned Kelly in a dress. An interview with Justin Kurzel
Ultimately, Kurzel hopes the stunning performances will spark a conversation about the issues raised by Nitram, including gun law reforms and how relevant, crucial and topical the subject still remains, nearly three decades later.
'When we were in Cannes and we were watching the film for the first time with an audience, there was an audible gasp at the end when people suddenly realised, after watching the film and understanding what happened on that day. There was shock that the bi-partisan gun reforms following Port Arthur would even be questioned, or those reforms could ever be eased or relaxed.'

'That shock was palpable. So, I think it is important that we keep on discussing these dark chapters. Nothing good comes from silence. I think that memory, even dark ones, can be very powerful.'
Nitram is in cinemas now. Madman will continue to roll out Nitram to cinemas as restrictions lift. It will be available on Stan November 24.