Thomas Wilson-White's debut feature film, the queer magical-realist drama The Greenhouse, premiered at London's BFI: FLARE Film Festival last year and has since enjoyed a warm reception at the Melbourne Queer Film Festival, Gold Coast Film Festival and Mardi Gras Film Festival. Covid lockdowns scotched a planned general release, but it's now screening on Netflix.
On its face, the film's premise is seriously kooky. An unearthly fog lures lonely Beth Tweedy-Bell (Jane Watt) into the bush surrounding her rural family home, where she discovers a mysterious greenhouse that acts as a portal into past moments in Beth's house.
Beth's life has stagnated in the years following her mum Lillian's (Rhondda Findleton) death, when as the eldest daughter she stayed home to care for her surviving mum, Ruth (Camilla Ah Kin), while her three adoptive siblings, Drew (Shiv Palekar), Doonie (Kirsty Marillier) and Raf (Joel Horwood), left town to pursue their own careers and partners.
Now, the family is reuniting at the farm to celebrate Ruth's 60th birthday; but in between passive-aggressively preparing for the party, Beth can't stop obsessively visiting the greenhouse to immerse herself in happier times.
Also, importantly, the greenhouse first appears to Beth after she happens to run into Lauren (Harriet Gordon-Anderson), her childhood "best friend" but really her first love. So it forcibly reminds Beth of how she pushed Lauren away because she was afraid to face her own sexuality.
For a film with such a gimmicky hook, The Greenhouse is surprisingly stylish and atmospheric, and at times summons a strong mood of yearning. Cinematographer Daniel Bolt, also making his feature debut, suffuses the greenhouse scenes with foggy fairytale greys, while the present-day scenes have a fresh, crisp light. The titular time portal feels very mysterious as fog presses against its windows; and Wilson-White milks suspense from Beth's hesitation as she nerves herself for whatever awaits on the other side of the door.
It's – pardon my pun – a fertile metaphor: Beth, who has refused to nourish her feelings of both grief and desire, now finds them growing ferally in this abandoned, liminal space. Some viewers may decide this is a real greenhouse on the family property and the fog is just the magical element that transforms it; but I saw the greenhouse as a completely imagined space that exists only within the fog.
Read: Film Review: 'Relic' is an assured cinematic exercise in dread
But I found myself frustrated by the way the film dwells in atmosphere without allowing its metaphor to cohere. To point to a few counter-examples: Natalie Erika James' Relic powerfully imbues a similar narrative space – a lonely matriarchal rural home – with an almost palpable sense of dread through its command of the visual symbolism of decay. And while the TV series Bloom also used a botanical metaphor to show its characters' yearning for the past, it was clear about the limitations and risks of its magical berries.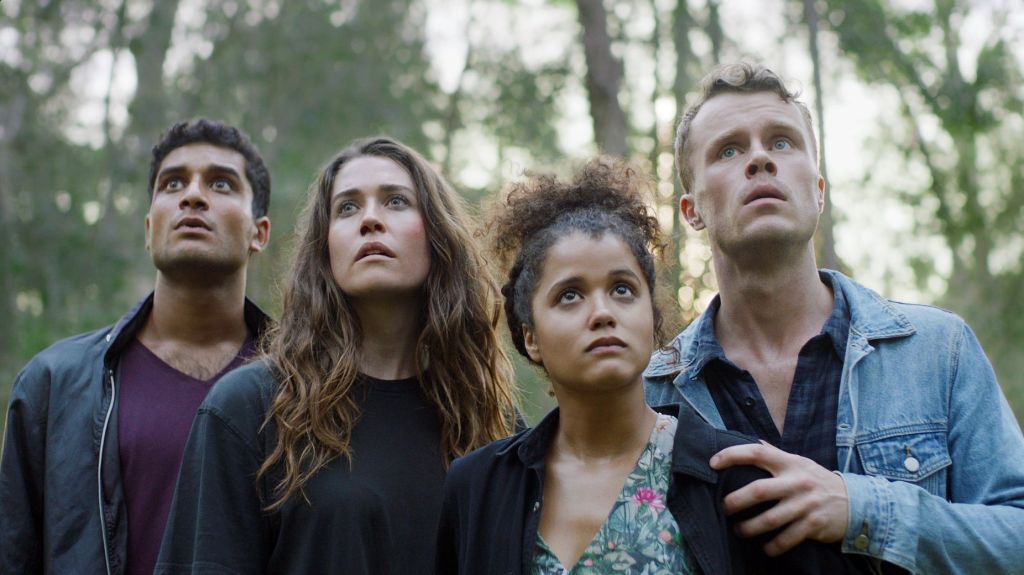 By contrast, The Greenhouse doesn't work its metaphor hard enough to establish that what happens to Beth here, in this entropic magical space, must also happen to her real mind and body in the present day. At first, it seems like her inattention to her siblings, her surrender of real life to fantasy, is itself the risk. But then in one of the film's most powerful moments, Beth falls asleep in her memories and wakes to find her arm buried in the dirt, seemingly showing the greenhouse is claiming her.
The motif is especially potent given the backstory of Lillian's death, but writer–director Wilson-White never really returns to it. Instead, he introduces new risks that don't pack a satisfying emotional punch because they seem to operate at cross-purposes with the central botanical metaphor.
Whenever Beth tries to touch Lillian inside the greenhouse, her mother's face blurs and fades. Later, Beth is attacked by monstrous doppelgängers of her loved ones. So, does this mean that her fond memories of the past will be erased or desecrated? And does Ruth's experience of the greenhouse as a place of solace imply suicidal ideation? Because the greenhouse behaves in so many ways, we just never get a clear idea of these garden stakes.
As a result, the film feels disjointed: at some points the direction is very subtle and moody, so we easily grasp what's going on by implication; but then at other times the characters just shout expositionally at each other. Beth's siblings mostly come across as pouting dickheads, give or take some character beats during the film's climactic greenhouse visit; and her romance with the thinly drawn Lauren is particularly unconvincing: poor Gordon-Anderson gets the clanger of a line, 'We're in love!'
Read: Australian Director's Guild Awards 2021 winners announced
Still, there's something appealingly earnest about this film that makes me wonder how much Wilson-White was drawing on his own experiences. At certain points, a more playful, affectionate kind of storytelling peeps through – something more like Search Party. And Ruth's storyline has genuine pathos. But then the hazy premise creeps back in like that fog.
I found myself exasperated by this film's focus on atmosphere at the expense of developing characters and ideas so they deliver a satisfying emotional payoff. The ending, which is played as a moment of intense catharsis for the Tweedy-Bell family, happens at the beach, of all places – a final thematic head-scratcher that shows this promising filmmaker is not yet fully in control of his material.
The Greenhouse
Australia, 2021, 89 minutes
Rated: M
Writer/Director: Thomas Wilson-White
Executive Producers: David Gilbery, Charlie Dorfman, Marlon Vogelgesang, Thomas Wilson-White, Julia Adams, Martin Brown, Steve Jaggi, Spencer McLaren
Distributor: Pivot Pictures
The Greenhouse is streaming now on Netflix