Television workplaces were once an escape. If they weren't full of crazy co-workers constantly bouncing jokes off each other, they were hotbeds of drama where teamwork was the name of the game. Idealised maybe; they were definitely the kinds of places you'd want to spend eight hours in – or just half an hour watching.
Now one of the most talked-about series on television is Severance (now available on Apple TV+) a drama based on the idea that going to work is so awful people will agree to actual brain surgery to ensure they remember nothing about it. The TV workplace is still an escape, only now it's the characters on-screen who want to leave their lives behind and it's turned their office into a nightmare.
It's safe to say our television romance with the workplace is officially dead.
Part of what makes Severance so compelling is the sinister attractiveness of its central concept. Even within the series, the idea of being 'severed' – having an operation that divides your consciousness between your home and work lives, with no memories shared between them – is controversial.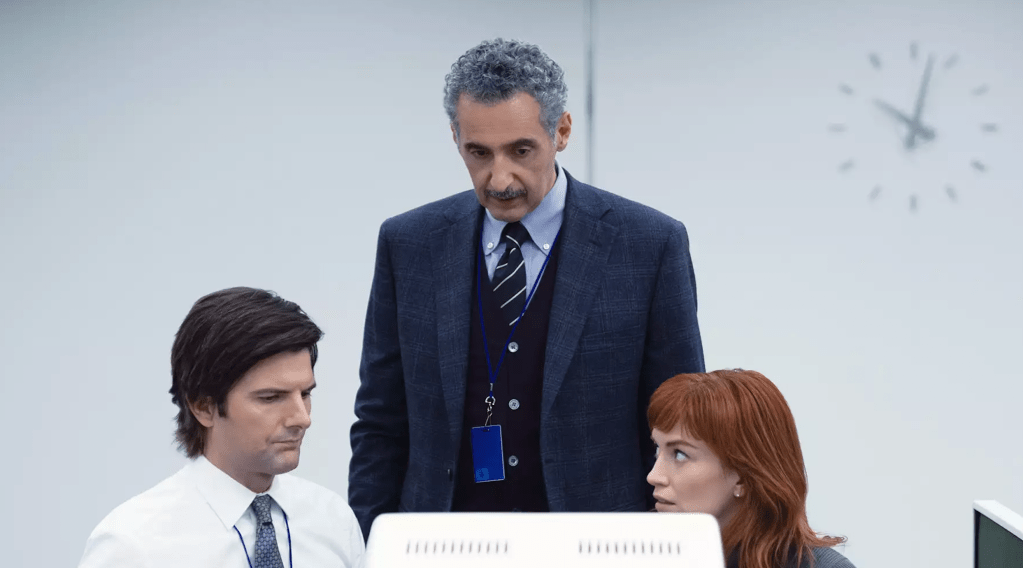 Some find it creepy, or inhuman. For Mark (Adam Scott), it makes perfect sense. A former professor shattered by the death of his wife, taking on an office job at the massive and cult-like Lumon Industries where his past doesn't exist once he enters the building seems ideal.
While he shuffles through his regular messed-up life in a frozen midwestern town as a broken man, his workplace self (or 'innie', as they refer to themselves, often wistfully speculating about their 'outie') is freed from his grief. Existing only inside walls of the Lumon complex, his innie is a cheerful, can-do type – though what exactly he and his department are doing is just one of the many mysteries taking place inside Lumon's endless corridors.
At times Severance feels like a grim parody of a workplace drama, like a version of one of those office-bound crime series (CSI, NCIS, FBI – acronyms are a must) complete with hard-as-nails boss. That'd be Patricia Arquette's Harmony Cobel, who is both nightmare boss and creepy neighbour, hitting two classic sitcom tropes in one. Only here the computer work never makes sense, they never get to leave, and everyone's backstory – from newbie Helly (Britt Lower) to corporate true believer Irving (John Turturro) and office cynic Dylan (Zach Cherry) – is a mystery.
Other times it's an office sitcom with a twist: once put together, the words 'music dance experience' will never be forgotten. Across the first season's nine episodes (a second has already been greenlit), it seems to sum up the evolution of the television workplace. If it feels like an endpoint, that's probably because it is.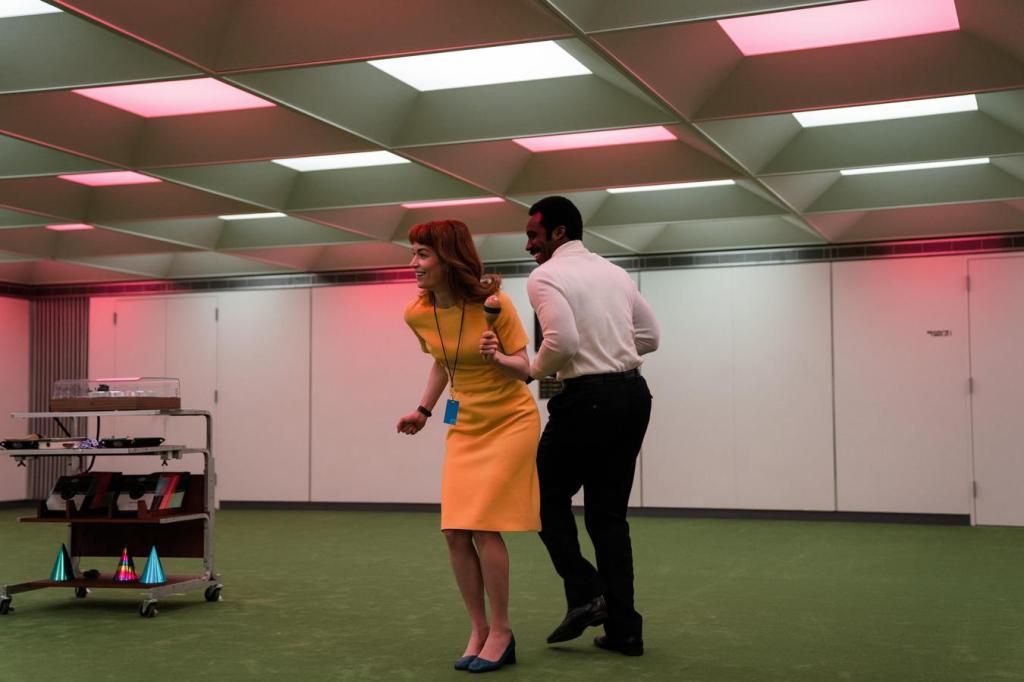 Good old days
A generation or two ago, the television workplace was sacred. What is the original Star Trek but a bunch of people travelling around in a mobile office doing the best job ever? The Mary Tyler Moore show set a standard for workplace sitcoms that was still being riffed on decades later (anyone remember Murphy Brown?); Are You Being Served? lives on references to Mrs Slocum's Pussy. Cheers probably didn't make much of a profit (unless they collected on Norm's bar tab), but they seemed to be having fun anyway.
Dysfunctional workplaces were funny (Night Court, News Radio, The Larry Sanders Show); functional workplaces were exciting (ER). It's hard to underestimate just how central the workplace was to the television experience. What people did at work was central to who they were. Sometimes, their rapid-fire banter changed the world – on The West Wing at least.
And then, first in the UK and then the US, The Office dared to say the unspeakable: for most people, working in an office is boring. Really, really boring. The faux-documentary style, the constant cutaways to office equipment, the crushing monotony of the work; Rickey Gervais' clueless boss David Brent might have become the breakout star, but it was the pointless boredom that made a real impression.
The workplace sitcom wasn't struck dead on the spot – 30 Rock and Parks & Recreation kept it going for a while – but the idea of a job being a fun place where a bunch of comedy misfits bounced jokes off each other had been dealt a blow it still hasn't recovered from.
If that wasn't bad enough, over on the drama side of the street Mad Men was waiting to give our memories of the good old days of working together a good kicking. On the surface, it was a return to the workplace television of the 60s. A time where people knew their place, and their place was part of a team that got things done (it's Star Trek on Madison Avenue, said no-one ever). Square-jawed white men in charge, sexy secretaries, clear-cut workplace goals; we know how this story goes.
Then things began to curdle in the offices of Sterling Cooper. Lies, schemes, scams, and phoney friendships (remember when Sal Romano was fired and never seen again?). It wasn't even high stakes drama most of the time, which was the point. The series was great drama, built around a house of lies, run by sexist men running from themselves. At least it ended before the suits got ugly.
Nightmares
Is Severance the final step in the television office's descent into full-blown nightmare? Not quite. Despite the big mystery set-up, Severance works because of the strength of its characters – both in and outside the office. The work might be bizarre and dull, the workplace sinister and oppressive, but at least the co-workers are decent human beings.
As the series progresses, they work together to try and figure out what's going on – and prove to be a much more impressive team when their motivation comes from within. The message is, today's office is a toxic hellscape; the only people who can make it tolerable are us.
And if the people aren't all bad, who's to say the workplace itself can't be redeemed?
Over on Paramount+, a new Star Trek series has just begun. A prequel to the original series, Star Trek: Strange New Worlds is built around the original formula: a bunch of hard working people committed to their job, which just happens to involve weekly adventures in space boldly going where no-one has gone before.
If that doesn't inspire people back into the workplace, a lot of office landlords are in a lot of trouble.
The entire first season of Severance is now available on Apple TV+; Star Trek: Strange New Worlds is currently screening new episodes weekly on Paramount+.