It's no secret that sports parents – especially the ones that push their children to be world class athletes – can be a bit of a nightmare. Which should also make them perfect movie material, but with King Richard there's a catch: this isn't just looking at the life of Richard Williams (Will Smith), father of Serena and Venus (and some other step-daughters as well). If you check the credits, you'll see Serena and Venus are listed as executive producers. This is an authorised biography, the kind of film that comes to praise its subject, not bury him. Where's the fun in that?
Fortunately, a lot of Richard's off-beat behaviour is a matter of public record. The night shift security guard didn't just train Serena (Demi Singleton) and Venus (Saniyya Sidney) day and night on a shabby court in the middle of LA's roughest suburb, he talked one of America's top coaches (Tony Goldwyn) into taking on a girl with no match experience (and then videotaped her lessons to show his other daughter at home).
Read: Film Review: Dune deserves the biggest screen you can find
Then he dropped that coach, signed up with another (Jon Bernthal) across the country, moved his wife (Aunjanue Ellis) and family from LA to Miami, and then refused to let his daughters play against anyone else until he felt they were ready to go professional. All the while building up hype for them so that when they did go pro, both the media and big money sponsors would be watching.
So, it's a feel-good story where hard work pays off and a family escapes the trap of the ghetto? Not quite. Richard is a fast-talking hustler who's pushing his daughters hard, but what makes his struggle interesting in spite of the uplifting tone is that Richard's opponents are largely right. The noisy neighbour who calls Child Services because the kids are practising day and night, rain or shine? She's right. The gang bangers who think Richard is nuts? Also right. The coaches who say the girls really should be learning by, you know, actually playing tennis? They make a good case.
To keep Richard's crown in place, screenwriter Zach Baylin and director Reinaldo Marcus Green position him as a man trying to thread a needle. On one side is the ghetto, AKA the LA suburb of Compton, while on the other are the other tennis parents, all demented white people pushing their young girls to breaking point and beyond. Richard has to work his girls hard enough to escape Compton (this is maybe the first movie to feature both John McEnroe and a drive-by shooting) and realise their full potential while not slipping over into the brutal world of abusive over-training. No wonder he seems a little wacky at times.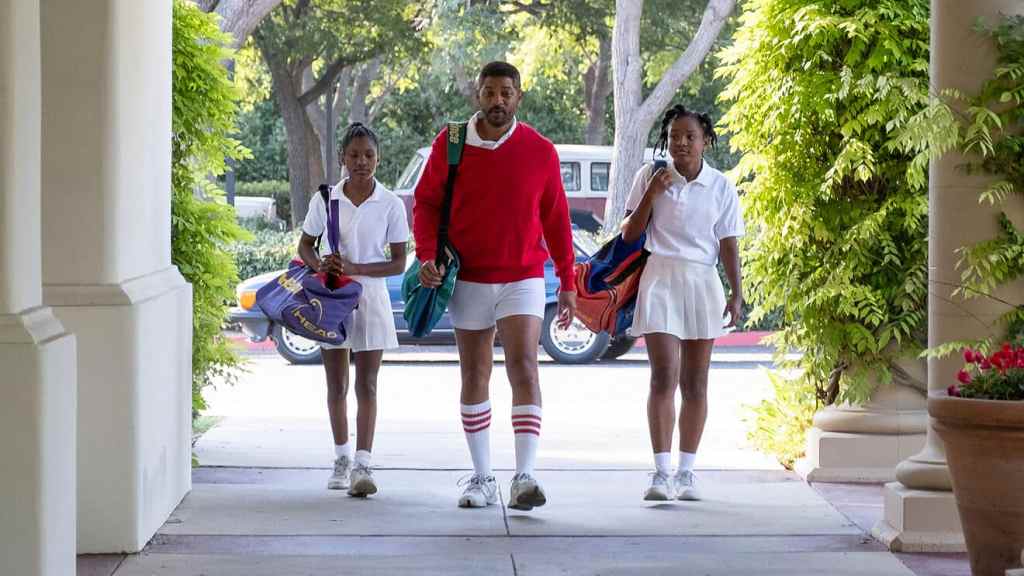 Venus and Serena don't really need Richard on the court. Richard's showbiz antics are largely stunts to get them where they need to be career-wise and maximise their value; he's a hype man, constantly building interest in his girls. They eventually begin to express their own views about their careers, but there's never a moment where they rebel against him. Even when Richard drives off on them, abandoning them (briefly) by the side of the road, it barely makes a dent.
King Richard becomes a revealing portrait of its central character almost in spite of itself. Like Richard, the film wants to present a straightforward front – it's the story of a man who made some tough decisions to get the right results. But the story the film is telling keeps twisting, showing angles that hint at something more. It may never fully explore those angles – or really dig down into what made Richard the man he is – but neither can it ever quite cover them up.

KING RICHARD
USA 2020, M, 2 hours 25 minutes
Director: Reinaldo Marcus Green
Writer: Zach Baylin
Starring: Will Smith, Demi Singleton, Saniyya Sidney, Jon Bernthal, Aunjanue Ellis
Produced by: Tim White, Trevor White, Will Smith, Venus Williams, Serena Williams
Distributor: Universal

In cinemas from January 13.