You can't fault Eureka Productions in the good idea stakes. Netflix has now formally announced that Eureka is producing its docu-soap Byron Baes with this: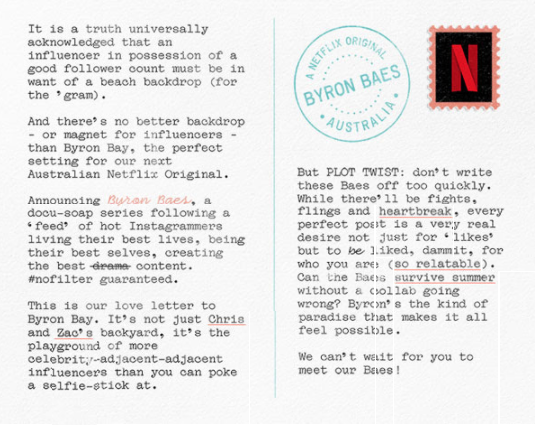 Image: Netflix
Byron Baes is a soapy series that will follow the lives of young Instagram stars living in the seaside town. Netflix describes it as 'A love letter to Byron Bay,' which the press release describes as 'the playground of more celebrity-adjacent-adjacent influencers than you can poke a selfie-stick at.' 
Byron Bay has been a favourite haunt of the screen sector since the Aquarius Festival hit Nimbin in 1973 and a generation of pasty-faced screen tragics discovered the tropics and learned how to get the ticks off their fantastically untrained dogs. But Australia's favourite chill-out centre seems to have met the fate of many pristine beachside spots: rich investors and holiday makers have taken over the joint, forcing prices up and hiring the locals to iron their linen faux-safari jackets.
The community seethes with resentment overlaid by ridiculously competitive parasites, all ripe for docu-soaps inspired by Australian 1992 docu-soap Sylvania Waters crossed with the Real Housewives of Instagram. 
Byron Bay's influencer invasion 
It is possible that the idea grew out of a legendary 2019 Vanity Fair article by Carina Chocano, The Coast of Utopia. It caused a global splash.
'It's a rainy morning on the last day of school before Easter break, and Adamo, who is American but has begun to sound Australian, is making tea—Earl Grey for me and herbal for her two-year-old son, Wilkie. Her look—deep tan, hair up, no makeup, chicly lumpy oatmeal-colored cardigan by Spanish knitwear company Babaà (@babaa, 95K followers), no shoes—is laid-back, yet she seems preoccupied.'
There was an inevitable backlash, which Women's Agenda manages to editorialise from outside.
'Making this Byron clique the scapegoats for all the evils in the age of Instagram Influencers seems rich.
Chocano's main rub with these Byron-based mamas centres around a lack of authenticity in the image of life they pedal. They use social media themselves but ban their kids from screens. They fail to recognise adequately the privileges they enjoy.
These women are making a buck out of selling a carefree, simple life and the hypocrisy is rank.'
Brigid Delaney in The Guardian took up the story, to encapsulate the pressures, the metaphors and the underlying shamelessness on which this series could well feast. 
Just before COVID, Harvard-supported Nieman did an insightful interview with Carina Chocano herself. 
'I started to think about the categories of things that interested me and seemed to run through the story: Instagram and the idea of authenticity versus presenting this perfect life; how much control parents have over the children's image; what their duty is with regard to the children's privacy, especially when they're very small; friendship and the presentation of it; the appearance of simplicity that, as anyone who is steeped in this stuff understands, is extremely expensive and inaccessible to most people.'
This is rich territory. There is the promise of self-obsessed social combat on the surface, lots of culturally important questions, a ton of nice images, and a way into our growing rage about inequality and betrayal fed even more by the pandemic and the failure of our institutions. 
None of the women in the Vanity Fair story are in this series. Instead, Elle is already on the bandwagon with a list of rumoured participants. Whoever it is, every move of this will be second-guessed, spoilered, snarked about and mocked on social media. 
The production company
Eureka Productions was set up in 2016 as a 'next-generation production company' by Chris Culvenor and Paul Franklln.  At the time Culvenor was the Senior Vice President, Development for Endemol Shine North America. According to his LinkedIn, he is:
among the world's most successful and prolific TV program creators and producers responsible for a long list of hit TV franchises both in the US and Australia. Shows that Culvenor has created include Holey Moley (ABC), Dating Around (Netflix), Fake Off (TruTV) The Big Deal (TNT), Billion Dollar Buyer (CNBC), Restaurant Startup (CNBC), Going Wild (NatGeo), The Chefs' Line (SBS), The Real Dirty Dancing (Seven), Behave Yourself (Seven), The Single Wives (Seven), The Shire (TEN), and WAG Nation (Arena).
Paul Franklin was Executive Vice President, Programming, at Shine America where he was responsible for the unscripted slate.
During his time at Shine America, Franklin was responsible for and served as an executive producer on such hit series as MasterChef and MasterChef Junior (Fox), The Biggest Loser (NBC), The Face (Oxygen), Tabatha Takes Over (Bravo), Minute To Win It (GSN), Riot (Fox), Restaurant Startup (CNBC), Fake-Off (TruTv) and Going Wild (NatGeo Wild). Franklin also oversaw the launch of Canada's top rating MasterChef (CTV).
Before moving to Los Angeles, Franklin worked as Shine Australia's Head of Programming. As one of the company's first appointments, Franklin was part of the core team that grew the start-up company into Australia's largest production company.
By the end of 2019, the company was making 90 hours of programming per year and had launched 24 series across Australia and North America. 
Read more: Seven goes local with new formats, banks on the science of advanced hindsight.
According to Karl Quinn, credit for the idea goes to Vice writer Julian Morgans, who is a dab hand at pop culture stories like 'How You Know You're Too Old to be a Backpacker'. He is an Executive Producer with Rachel Tuffery, until recently the Head of Production for Vice Australia and then the Head of Production for Commercial-APAC at the same company. Expect their production company Superreal to be involved.
Emma Lamb, a writer and producer, is also involved as Executive Producer. She brings the DNA of working on The Real Housewives of Sydney.
The production will have a lot of barstool critics in Byron Bay.
Disclosure: David Tiley went to Nimbin in 1973. He did not steal the 5.9mm wide angle lens but somebody did.