A dedicated initiative for the mental wellbeing of Australian screen industry workers is long overdue. Thankfully, there are now a handful of new initiatives aimed at improving the mental wellbeing of those working in the screen industry, on camera or off.
Screen Well
Screen Well, launched earlier this month, aims to address the ongoing mental health challenges facing Australian screen businesses and practitioners, with those working in the country's 'entertainment' industries reportedly prone to high levels of suicidal ideation, anxiety, and depression compared to the general population.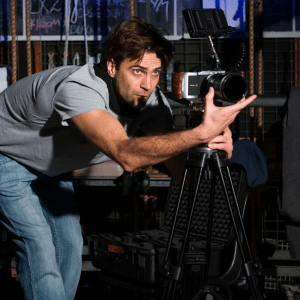 Screen Well is a website and social enterprise established to improve mental health outcomes for the Australian screen industry.
'Prioritising wellbeing in the workplace starts at the top, but everyone working in screen has a part to play if we want to create mentally healthier screen workplaces, and that's why Screen Well's suite of early intervention and prevention services help to support individuals, peers, and workplaces,' said Screen Well co-founder Ben Steel, and the filmmaker behind the acclaimed ABC documentary The Show Must Go On.
Screen Well also hosted a series of round tables at the Screen Forever conference this week, which explored wellbeing challenges facing leaders and screen practitioners.
'We want screen companies and businesses that care about improving wellbeing to reach out to us, meet with us, and consider using our services because we're from the industry – we've been on the front line for years, and collectively we've been working in the mental health space for over six years,' said Margaret Tillson Screen Well co-founder.
The current offering of support services on the Screen Well website includes: three best practice industry guides for wellbeing; a research collaboration with Griffith Film School; and a partnership with Ausfilm, Fox Studios Australia, Netflix, and Industrial Light & Magic offering five online Mental Health First Aid courses starting in June 2022.
'As we continue to grow we will be investing our trade-generated income back into to our suite of free screen industry specific resources and initiatives,' Steel said. 'By investing in us you are investing in your own industry.'
Hey Mate
Hey Mate is a project that delivers mental health, wellness support, and education to the music, entertainment, performing arts, and creative industries. Its team of mental health professionals supports artists, industry professionals, companies, and the wider community to improve their mental health and wellbeing. Its aim is to 'bring back that feel-good feeling to the community and industries we support daily through the use of industry and vocation specific support and education'.
The Hey Mate Project's founder, Aimee Davies, started her career in sound engineering before embarking on a colourful and varied career throughout creative industries. During this period, Aimee found that there was little support in the creative industries and the niche issues experienced by professionals within the creative industries.
After almost half a decade of working in the health sector, and graduating as a registered Counsellor, Aimee combined her Therapeutic skills and creative industry experience to create The Hey Mate Project. Her ethos is to provide industry and vocation specific creative thinking support that is accessible, proactive, preventative, educational, and industry informed.
Visit the Screen Well website, or visit the Hey Mate website for more information.