Fresh from the international streaming analysts at German service JustWatch comes a bunch of data about Australian usage for the first half of 2021.
But first, let's go back in time and check the figures from local company Finder, which provides a baseline for Jan 1 2021. It claims that 88% of Australians use at least one subscription service; Netflix harvests just over 66%, while Stan, Amazon Prime and Disney+ fight their way around the 30-40% band.
An extra 18% of the population joined their first service in 2020.
JustWatch tells us how much of the market – the 88% – each service has. Those numbers are more modest. Netflix has 29% of the market, Amazon Prime has 19%, Stan and Disney+ are neck and neck around 16%, Binge is down at 10%, Foxtel Now is at 7% and 'other' is at 4%. Market share is not about how many services a punter supports, but about what proportion of the viewers are watching a service at any particular time
So each service can fight for a lot more, but those numbers will always come at the expense of the competitors. This chart demonstrates how this is playing out over the last six months.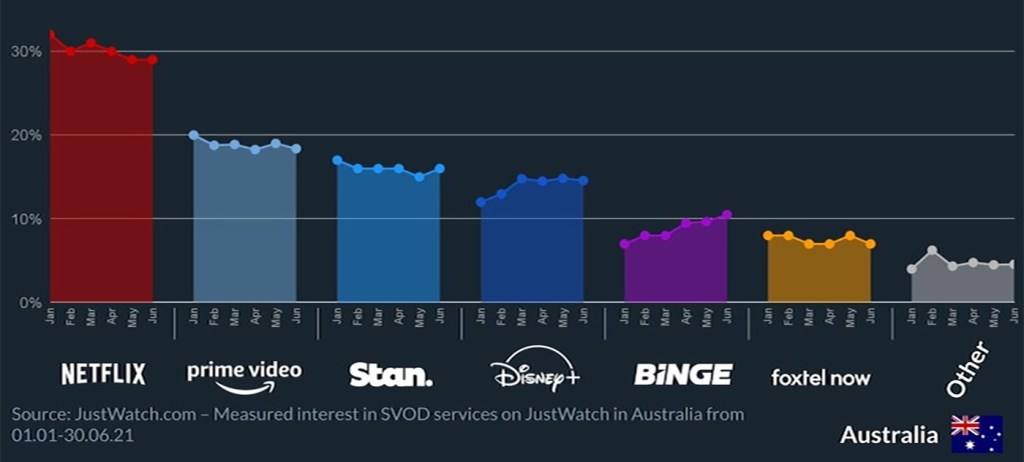 We have to remember that Prime and Disney+ rocketed up the ladder before January, and continue to rise. Neflix peaked in January and slid away more sharply than Amazon Prime and Stan. Those numbers clearly went mostly to Disney with Binge following, while Foxtel Now never did much better than the base level of Binge and Other has been stable for months despite the trickle of new entries.
Read: Disney's shadow looms over Australian streaming
Except for Binge, everyone else seems to be stable for the last couple of months, as if everyone has developed habits and stuck to them, which suggests they are not really bouncing around between services.
Here is another twist, from some numbers provided by Mozo, another Australian data service. It claims that 81% of Australians have at least one service, which is 7% lower than the Finder estimate at the beginning of January. 64% of subscribers have more than one source.
Mozo used a survey of 2.305 Australians between 20 May and 1 June 2021. so late in the period covered by the Germans. They claim that 'Netflix (49%) was ranked the favourite streaming service while Disney+ (7%), Amazon Prime Video (7%), Youtube Premium (6%) and Stan (5%) were found to be growing in popularity.'
These figures measure affection rather than consumption so they don't reflect the JustWatch figures. They are probably based on measuring traffic, based on a service like Samba. They suggest that viewers who take both Netflix and Disney+ actually prefer Netflix a lot more.
Read: Samba watches as watchers watch
Mozo goes one stage future. It says that 39% of users sign up for free trials to watch a series and then cancel the service. That is a huge bunch of financially prudent people. But then it goes on to say that 'more than half (53%) of streamers don't cancel a streaming subscription they are no longer using, electing to keep their options open or hoping other family members might one day login.' Many people may do both, so these groups are not exclusive,
Where does that leave us? Netflix should be pretty happy that its competitors seem to have mostly stalled, while a lot of people use Disney and Amazon Prime without really liking the brand. If the population learns to switch off services they don't want – as money-savers Mozo encourages them to do – we are going to end up with a very old-fashioned arrangement.
Read: Stan recruits new Director of Programming
People used to watch one channel and make raids on the others. There were jokes about the dial getting stuck on Channel 9. Even when Seven and Nine fought for supremacy tatty old Ten still had a loyal audience which kept its ratings roughly in the 400,000s. If we do the same again, streaming marketers will be in despair as Netflix rules the roost, though we are betting that Stan executives are getting together around their whiteboards to raise an existential question: If audiences are going to take root around one service, what can we do to make sure it is us?
One oddity: none of these articles break out iView and SBS On Demand. Are they just too small, or irrelevant to commercial analysis?