Blackrock-born Patrick Hughes got his start 12 years ago with the taut modern Australian western Red Hill, starring Ryan Kwanten and produced by Greg McLean (Wolf Creek).
Hollywood came calling soon after, with Stallone asking Hughes to direct The Expendables 3, and ensuing box office hits including The Hitman's Bodyguard and The Hitman's Wife's Bodyguard. 2022 will also see the release of the action-comedy Man From Toronto starring Kevin Hart and Woody Harrelson.
This week it was announced that Hughes' company, Huge Film (based on a misspelling of his surname) will open an office in Melbourne, bringing together writing partner James Beaufort and filmmaker Greg McLean as executive producer, with three high concept big budget films in the immediate pipeline.
Patrick Hughes said of the new business, 'I always wanted to build a company locally that creates large scale, high concept movies for international audiences and now is the perfect time to do so.'
'I always wanted to build a company locally that creates large scale, high concept movies for international audiences and now is the perfect time to do so.'

Patrick Hughes
As Hughes told Karl Quinn of the Age and SMH: 'For the first time in my career, Australia's location incentives are globally competitive, so making big-budget action movies on my home soil is now a viable reality … I've never before been able to drive to work, and to come home and say to my kids "how was your day". This is the dream for me.'
Hughes told Quinn that, 'For the past 22 years I've worked all around the world, shooting commercials and then movies,' he said. 'Now I feel like I've reached a new stage in my career where I've got a bit of sway and I can say, "this is where I want to work."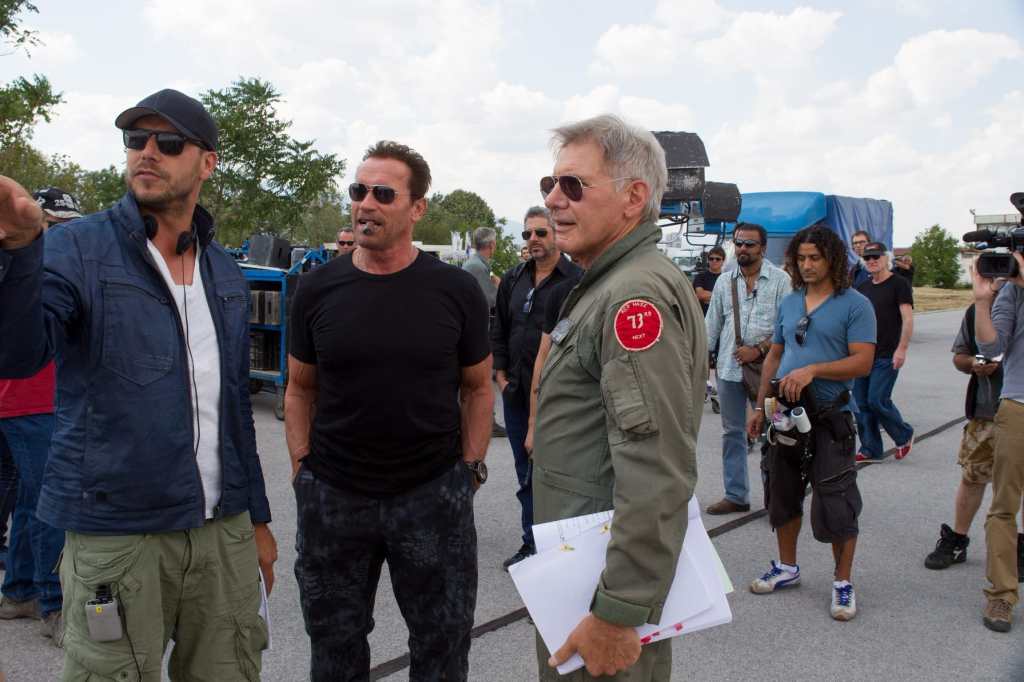 Greg McLean, who first met Hughes when they were both penniless filmmakers at the St Kilda Film Festival, said of joining the new venture, 'Australia is an incredible place to make movies with an abundance of unique creative talent both behind and in front of the camera, and with the awesome slate Patrick has lined up, as well as several exciting original projects in the pipeline; I'm thrilled to be joining Huge Film.'
The Sydney-born actor and writer James Beaufort also said he was excited to take his partnership with Hughes 'to the next level'.
Read: What's it like to write Clickbait? Christian White knows.
Last month, Hughes announced the sale of War Machine (Lionsgate), an original action/sci-fi about the final 24-hours of the world's toughest selection process, in which a team of special forces encounter a threat beyond their imagination. Hughes is writing, directing and producing. Locations for War Machine are yet to be announced, with New Zealand a likely destination, and studio scenes and post production in Melbourne.
This week Netflix announced Hughes' new project, a reimagining of Gareth Evans' kinetic Indonesian cult classic set in a high-rise tower The Raid, which Hughes is writing with Beaufort.
This version of The Raid will be set in Philadelphia's drug-infested 'Badlands', where an elite undercover Drug Enforcement task force climb a ladder of cartel informants to catch an elusive kingpin. Hughes will direct the feature film with Michael Bay & XYZ Films producing. Hughes has been wanting to direct this remake since 2014.
Hughes and Beaufort are also writing the final instalment (as yet untitled) of the highly successful Hitman's Bodyguard franchise. The Man From Toronto (Sony), starring Kevin Hart, Woody Harrelson, Kaley Cuoco, and Ellen Barkin, completed post-production in Los Angeles and will be released in August 2022.