The Latest. Edited Friday 6 August
Victoria is currently in a snap 7-day lockdown, where public gatherings are not permitted. These restrictions are expected to remain in place until Thursday 12 August 2021, subject to public health advice.
Whether in-cinema MIFF screenings, including the Gala opening of The Drover's Wife can go ahead as planned from the 12th, remains up in the air. Our sincere sympathies go out to the festival organisers and anyone involved in a film that's scheduled to premiere. It's a year of disappointments. MIFF issued an email to subscribers today saying:
'In light of the Victorian lockdown announced by the State Government this afternoon, we are currently working through any repercussions that could affect ticket holders to this year's festival. As always, the safety of MIFF staff and patrons is our paramount concern.  Regarding in-cinema and drive-in sessions, please be patient. Further announcements will be made early next week.'
MIFF has announced that ticket sales to in-cinema and drive-in sessions have been temporarily paused.
IF (and that's a very big IF) lockdown lifts next Thursday, the information below is how the festival is expected to run.
In the meantime, online screenings of more than 60 films through MIFF Play are now available Australia-wide. Some of it is free, including the Australian Shorts program.
To sweeten the sour, there are five All Access MIFF Play Golden Couch Passes up for grabs. To win, entrants simply need to email media@commonstate.co with the subject line 'MIFF Play Golden Couch Pass', and include their name and which film they can't wait to watch on MIFF Play. Entries close Tuesday 10 August, and five winners will be chosen and passes issued on Wednesday 11 August.
Monday 2 August (a lifetime ago)
The Melbourne International Film Festival (MIFF) today announced how the festival will run in compliance with Melbourne's latest crowd restrictions. There are some key changes to the original program: In-cinemas screenings have been pushed back one week from 5 August to Thursday 12 August, and extended online options will now run the full duration of the festival from 5 – 22 August.
Melbourne's cinephiles have been impatient for this announcement, which comes nearly a week after Victoria emerged from full lockdown to a cautious 'loose-down'. MIFF fans are famously rabid and book out many sessions, often weeks in advance. Some even schedule their annual leave to attend the once-a-year endurance event.
These days, every event is provisional. Sigh.
Read: MIFF: The Six Films to Watch according to programmer Kate Jinx
As well as the 62 online films already announced, now able to be accessed in all states across Australia from Friday 6 August, the online program will also be augmented with around 30 additional features and more short films to be added as well.
Artistic Director Al Cossar – always a big fan of alliteration – said in the media release: 'In the midst of covid-era calamity, constraint and complication, MIFF keeps moving forward to meet audiences where they are, including those in lockdown currently. Our whole festival team is working extremely hard to ensure that we can create and sustain as many opportunities for audiences to be a part of the festival this year as possible.'
'We are determined to share our wonderful program, and the work of so many incredible filmmakers, with audiences – through moving our entire schedule to make the most in-cinema screenings for the largest audience possible, utilising large capacity venues such as the Coburg Drive In, and expanding MIFF Play's digital festival season, so that audiences anywhere in Australia can make MIFF happen, even in 2021.'
Online screenings begin 5 August with CODA
The first film to be screened, which launches the festival's online screenings on 5 August, is CODA – Siân Heder's tender coming of age story. 'The transfixing story of a CODA (a child of deaf parents), the film explores the fraught ties between deaf and hearing communities through a young girl pursuing a passion in music, despite her parents' inability to participate.'
CODA premiered at Sundance, where it won four awards, including a Grand Jury Prize and Audience Award, as well as making headlines for becoming the biggest film acquisition in the history of the festival, with Apple winning out over Amazon, and paying $25 million.
MIFF Opening Gala: The Drover's Wife spreads across multiple venues on 12 August
Leah Purcell's highly anticipated feature debut The Drover's Wife: The Legend of Molly Johnson will mark the commencement of the festival's in-cinema program on 12 August. In order to increase opening night capacities in the context of limits on gathering numbers, concurrent screenings will now take place at The Astor in St Kilda; The Sun Theatre in Yarraville; Pentridge Cinema in Coburg; and Lido Cinema, Hawthorn.
Questlove's Summer of Soul (…or, When the Revolution Could Not Be Televised) will premiere as the Centrepiece Gala on 19 August, with CBD screenings now expanding into Coburg Drive-in.
New Titles Added from Cannes
As part of today's announcement, MIFF has also revealed it has secured a selection of extra titles direct from Cannes – including Julia Ducournau's Palme D'Or winning Titane, hailed as 'The most shocking film of 2021'. Anyone who saw her debut Raw will have some idea of what to expect. This one is the transgressive story of a young girl with a titanium plate in her head who turns bloodthirsty.
Also from Cannes are: Joachim Trier's The Worst Person in the World, 'a wistful romantic comedy that tracks a restless woman as she tips over into her 30s and tries to make sense of who she wants to be and who she wants to be with; Oliver Stone's latest doco JFK Revisited: Through the Looking Glass; and the first film from Bangladesh to officially screen at Cannes, Abdullah Mohammad Saad's Rehana Maryam Noor.
Rehana Maryam Noor follows a young assistant professor at a medical college, who witnesses a professor upset a student. 'She soon descends into obsession, seeking retribution in a quest for justice which pits her against the deeply embedded forces of patriarchy in Bangladeshi society.'
MIFF XR Program and Inaugural Online Gallery
Launching on 7 August, MIFF's Extended Reality program, MIFF XR will be available free, anywhere in the world, with no extra tech required. MIFF's inaugural online gallery and home of XR experiences takes the form of a digital render of the architecturally amazing and historically significant RMIT Capitol cinema, which can be accessed either via a VR headset or standard home computer. This is supported by filmmaker, artist and philanthropist Ling Ang, and festival audiences 'will be able to meet, gather, mingle and converse in this iconic Melbourne cinema – no matter the COVID situation.'
One of the XR titles we're personally anticipating with glee is Abel Kohen's 'dazzling interactive narrative VR experience' Biolum, featuring Charlotte Rampling's voice guiding us through underwater caves filled with bioluminescent creatures. Blurring the line between sci-fi and biology, the French-German film looks magical and was the SXSW Virtual Cinema Competition Audience Award winner.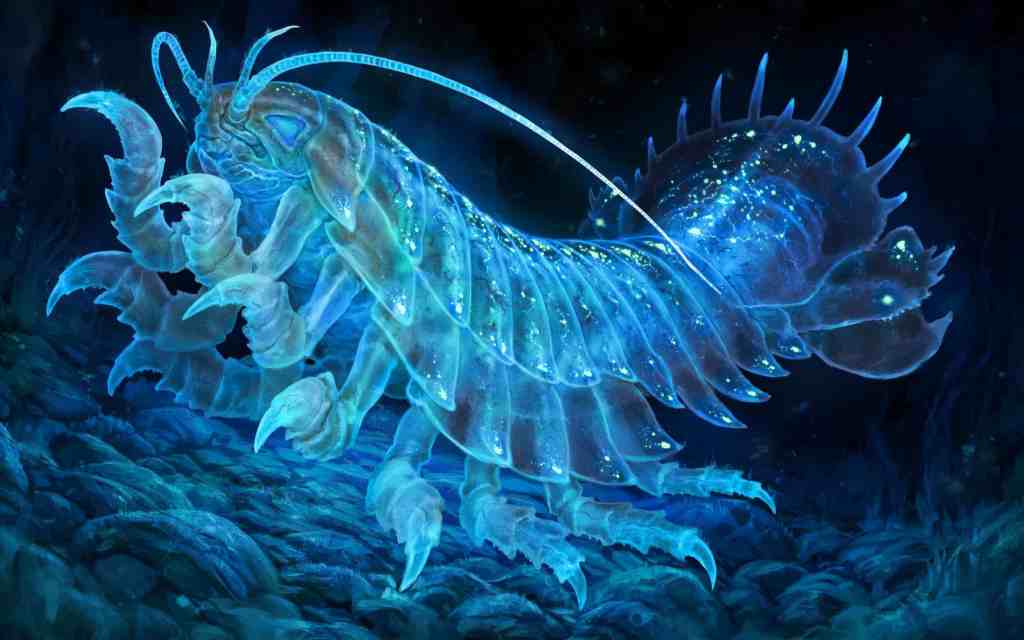 The 2021 Melbourne International Film Festival is online 5 – 22 August and in cinemas 12 – 22 August. All existing ticket holders will be contacted directly.