The First Fleet – aka the 11 ships that brought the first batch of colonial settlers to Australia – is a phrase that to many signifies the beginning of 'Australia' as a European-inhabited land, and first major threat to the country's Indigenous cultures. When those ships landed in Botany Bay, it was the first contact many First Nations people had had with European culture, and vice versa.
Enter Bunker: The Last Fleet, an ambitious short-film (and soon to be feature) that turns the history on its head. Set in a dystopian future, Australia's First Nations people are now the last survivors of a terrifying alien invasion (elevating 'first contact' to an intergalactic level).
Bunker stars Indigenous actor Natasha Wanganeen – who you may remember from her starring role in Rabbit-Proof Fence (2002) – as alien-invasion survivor Tjarra. She also co-wrote and produced Bunker.
We spoke to Wanganeen about jugging multiple creative roles, and leading Australia's first Indigenous sci-fi.
Hi, Natasha. Bunker looks like a really exciting film, can you tell me a little about the concept and your role?
Well, it is the first lead role that I've done in a sci-fi, so that's a big thing for an Aboriginal woman to be doing that. I haven't had a lot of experience in that area. But it's a genre that I absolutely love: sci fi, action movies, anything with guns and aliens! I'm a child of the 80s and that's what I was raised on.
The concept of Bunker is a cheeky take on the First Fleet in Australia. This is about the very last fleet, inspired by the fact that Indigenous culture has been here for thousands of years and will continue to be here – maybe even in a post-apocalytpic world. It's a very unique concept, and it's an exciting one.
It's playing with that idea that people of the land can survive anything. If you look at indigenous cultures all around the world prior to settlement, they were absolutely thriving with their own techniques, the way of the land and their culture. So it's only right that if we did have an apocalyptic event here, that the Indigenous people would know what to do and how to live.
It seems like a bit of a no-brainer – I find myself asking why we haven't seen a film like this before …
Yeah! I asked the same thing. I think it's because the industry wasn't focused on putting us Aboriginal actors in a position where we could be something other than oppressed historical figures.
There have been many stories that have been told about our survival, even at the most brutal of times. It can cause a lot of heartache. And I understand how important historical films are, especially when it comes to telling Indigenous peoples' truth. But it's also great to be able to explore the world of sci-fi and fantasy, and escape our political lives and the crap we deal with as Aboriginal people.
Films likes this pretty much saved my life when I was growing up. I couldn't leave my country and go to a place where I was accepted – so watching those films gave me a window into the way the rest of the world is living. And I think bringing that back to our people, and using that to shape new stories is a wonderful opportunity.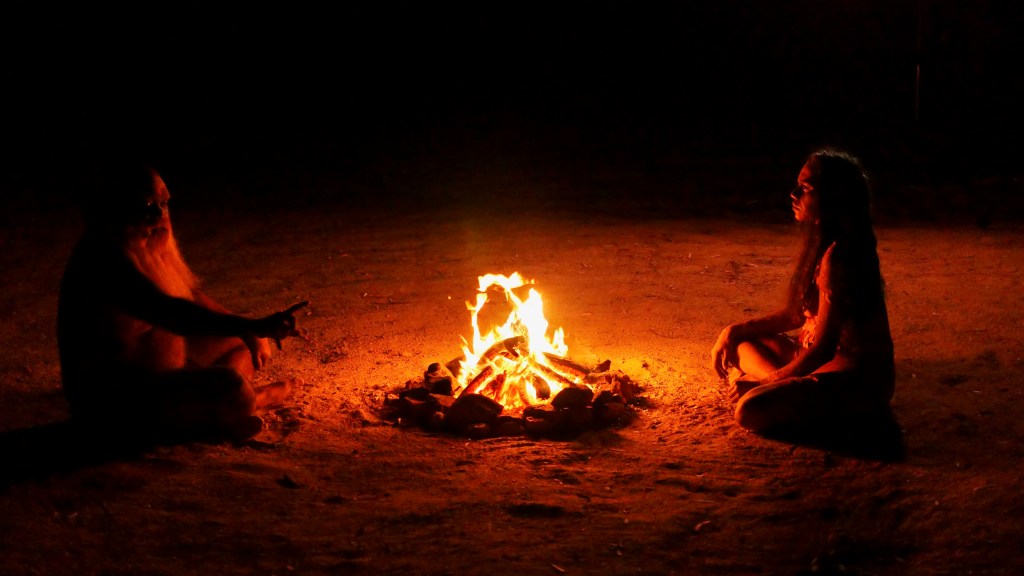 So how did you get involved in Bunker?
Well, Adelaide is brilliant like that. We all know somebody who knows somebody here. There are quite a few people I've worked with before, including community elders Uncle Fred Agius, who knows a mutual friend Nick Hayes who runs Spinifex Skateboards up in Alice Springs. Through him I met [directors] Rowan Pullen, Stephen Potter and [design lead] Michael Kumnick. They showed me some Nerf guns that they had modified and some concept art, and as soon as I saw aliens and guns, I was in!
I love the costume design, can you tell me more about what it was like to wear it?
It was brilliant. The brown leather outfit that I wore reminded me of the Ewoks in Star Wars. There's a lot I could ramble about when it comes to the costume, like the pistol I carried in a thigh holster. I had a lot of fun – probably too much fun. I think I looked like a bit of an idiot behind the scenes. But I loved it.
I understand Indigenous Elders were consulted for the film. How were they brought on board?
[Kaurna Elders] Uncle Freddy Agius and sister Katrina Power are relatives in the communities. So we contacted them, and had a meeting to ask if they would like to be involved in the film and give us some of their knowledge on certain cultural aspects. Trevor Jamieson, who's my cousin, also helped with cultural and language advisement.
It's been a beautiful process, marrying the two cultures together. I mean, technically it's three cultures: Australia, Aboriginal Australia, and sci-fi. Our Elders have been very open to what we're doing. Uncle Freddy is a fan of sci-fi – he loved the original Alien movie. So it was great for him to see us young people use our culture to create a space for Aboriginal sci-fi. They make some great cameos in the film as well.
What are you hoping the reaction will be at the St Kilda Film Festival?
The fact that it's going to St Kilda Film Festival is amazing. I'm very proud of everybody involved, because it is a passion project with only a very small little team. It's precious to us and we don't expect it, or even want it to, blow up. I still hope they love it, of course!
We do hope that it inspires other people to create stories like this and delve into the sci-fi world. Australia has a lot of potential. Not just with locations and actors, but with our cultural stories as well, there's potential to create some absolutely beautiful magic down here.
If all goes well, when we will see the fully realised feature version of the film?
Well, we've already got some people who are interested in taking it to the next level. And if any funding bodies watch it at St Kilda Film Fest and are interested in helping us get there, we're more than happy to sit down and have talks. We know there are people who want to see the rest of the story and want to see it on a giant scale.
Bunker: The Last Fleet will have its domestic premiere at the St Kilda Film Festival (currently running). The Melbourne screening kicks off a packed tour of the international festival circuit for the film, including Revelation Perth International Film Festival in July. Find out more on the Bunker website.