This week the total returns from the top ten films was $8.34 million. In the equivalent week of 2020, just weeks before the pandemic, that total was $22 million.
The Australian films seem to be running in special cinemas with a huge neon sign outside the door that says, 'Covid Definitely All Over the Seats'. I'm Wanita is down to one screen, made $88 over the weekend and has banked $15,000. Nitram ditto, for $57, though it has made $478,000 altogether.
Gold, in week two, lost 11 screens. The five no-one remembered to turn off made $1,700 to reach a total of $12,000.
We know it is on Stan and advertised as such, so exhibitors are returning it with another sign, this one reading 'Poisoned Before Delivery'.
Read: Why we like Gold and why you will too eventually
The mainstream pictures
Australians have voted with their tickets to show us just what they like. Spider-Man: No Way Home is still defiantly at number one after six weeks, which is far wider than the cult market. It has made $78.76 million so far and still took $2.15 million in a single weekend.
Sing 2 is second after five weeks, with $15.73 million tucked in its pockets, and $1.22 million for the weekend, down a mere 2%.
Scream 5, in week two, has made just under $4 million, and $1.17 million for the weekend. Those are cult figures.
Ghostbusters: Afterlife is at number 4 after four weeks, with $9.42 million and $758,000 last weekend. That looks much better than the original Ghostbusters which made $16.5 million in 1984. However, a slinky adjustment for inflation gives us a real value of $52 million, while Ghostbusters 2 collected $9.6 million. So, Ghostbusters: Afterlife is doing well. They are all Christmas films, by the way.
Frock film House of Gucci, which is really a crime story, is doing well with $6.87 million in four weeks, spy story The King's Man has $3.84 million in three weeks, tennis picture King Richard has $1.52 million in two weeks and Clifford the Big Red Dog has $4.11 million in four. West Side Story continues its minor career with $2.84 million in five.
There are two interesting launches. Spencer, about the Diana saga, arrived on 297 screens to take $400,000 on the first weekend. Guillermo del Toro's Nightmare Alley on 301 screens, made $515,000 in direct competition. Two different kinds of loyalty.
Read: Nightmare Alley is a film noir nightmare with impeccable cred
Read: Box office for last weekend
International
The eagle-eyed Patrick Frater in Variety points out that The Matrix: Resurrections has made $16 million over two weekends in China, though it collapsed under the weight of local films launching in the lead-up to the Lunar New Year due on February 1. While everyone else basically hides from the pandemic, Embrace Again took top slot for this week, with almost $200 million since December 23.
The UK meanwhile has embraced Spider-Man with the second highest total in the world. With $165 million over the last six weeks, it added $4.4 million over the weekend, to just pip the launch of Belfast, about Kenneth Branaugh's childhood. Spoiler alert: he survives. Scream made $2.45 million in its second weekend, to create a $9.06 million pile of cash altogether. So we like it more than the denizens of Fusty-Isle.
In the US arachna-love reigns supreme, followed by Scream, allegedly because the majors are keeping their next flood of big films until after the traditionally slumped figures of January.
We now have a list of the top films for 2021 via Box Office Mojo. Here are the top fourteen, which covers most of the familiar titles.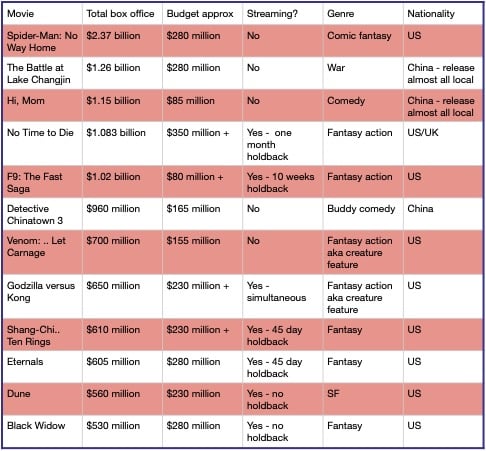 Three from China, rest are American, with a huge emphasis on fantasy, while only three of these films are streaming simultaneously. They all have budgets high enough to provide vaccine for entire countries in Africa.