Victoria Thaine is a familiar face to anyone who watches Australian film and television. She's starred in everything from Caterpillar Wish to The Loved Ones, Rush, Rake and Rainshadow (for which she was nominated for a Silver Logie). Most recently, however, Thaine has been seen on Youtube, starring in odd-couple comic web series Sonia & Cherry, where she plays an overly zealous attachment-style mother whose best friend (Petra Yared, Crownies, Offspring) doesn't care what her kids do as long as it shuts them up.
It's short form comedy that will resonate with anyone who's ever been caught in the fraught and judgey world of competitive parenting, or seen their friends transformed for the worse by parenthood.
As well as acting, Thaine also writes and directs Sonia & Cherry, both seasons of which have been produced by Naomi Mulholland, who is an extremely experienced line producer and production manager with credits including Clickbait, Stateless, Playing for Keeps and Wentworth.
Together Thaine and Mulholland are Cloudberry Films. Their first project together was back back in 2012, with the award-winning crowdfunded short film about a cult, The Kingdom of Doug, which picked up Best Australian Short at Flickerfest 2014, Best Director St Kilda Film Festival 2014, and screened on ABC iView and SBS.
Read: Michael Lucas, creator of The Newsreader, talks ambiguity, archives and the 80s
We asked Thaine and Mulholland to talk behind each other backs (in a very supportive way!) about Cloudberry Films and the challenges involved in making second season of Sonia & Cherry during Covid. They talk about the difficulties of full time work, parenting and making films on the side, and what they wish was different for emerging players within the Australian screen industry.
VICTORIA THAINE
Q : How would you describe what you do to someone at a party?
I'm a filmmaker, but an actor by trade, and I work a day-job to pay the bills!
Q: How did you meet Naomi Mullholland, and when did you know you wanted to work together?
We met on the set of Rush around 2011 – Naomi was production managing and I was a guest actor for a couple of episodes. I had been talking to Jolene Anderson about wanting to make a short film I'd written, and she thought Naomi might be interested in producing it. So we met for coffee and agreed to do the short film together. The partnership worked, and so we just kept forging ahead together to try and make more stuff!
Q: What does Cloudberry Films mean to you? What is your philosophy or manifesto?
I think somewhere along the way Naomi and I have realised that Cloudberry Films could actually be a proper business. Between us we have decades of industry knowledge, with complementary skills that come from our diverse roles on set and in production. On top of that, we've now known each other for a decade, and have an extremely close friendship. It's tough to forge a career in this industry and it's so valuable to have someone else by your side. Our official manifesto is to make 'content that provokes and entertains', and I think that speaks to our personal taste; we both like stories that push the envelope in some way, but at the same time are still enjoyable to watch!
Q: How is Season 2 of Sonia & Cherry different from Season 1?
For starters, we made Season 1 on the smell of an oily rag! It was a one day shoot that we pulled together while Naomi was nursing a 3-week-old and I was about to give birth to my second child. We hadn't made anything for a few years and with newborns on the way we were afraid of losing momentum. We came up with a story that was achievable in one day with no budget, and with friends that could help out.
We had funding from Screen Australia for Season 2 which removed a lot of limitations; we were able to change the length of the episodes from 3mins to 7mins, which meant instead of short sketches, we could create mini story arcs with Sonia, Cherry, and an expanded cast of Dave, Perfect Dad, and the Au Pair. We were also able to scale it in terms of the visual storytelling, and just have great control and flexibility over the look and feel.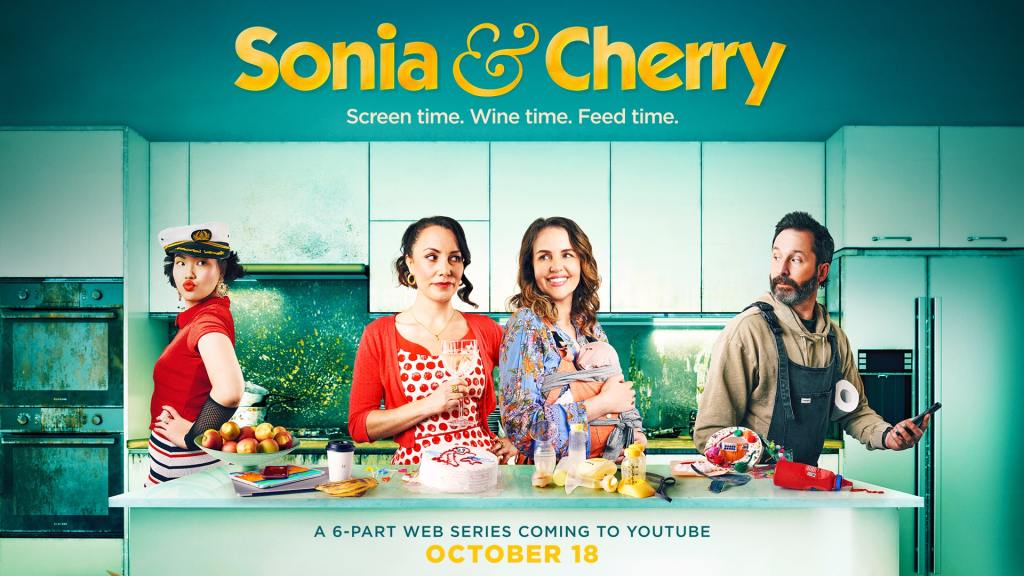 Q: Do you think that in Australian society we are getting more honest about competitive mothering and the realities of maternal stress?
One of the key themes for Season 2 was about this idea of fantasy vs reality and how we feel the pressure of appearing like the perfect mother, not just on social media but even with our close friends. I think there's definitely a societal shift in placing greater emphasis on mental health and wellbeing, and so with that there's perhaps better communication around maternal stress, but I still think we have a long way to go. You only have to spend 10 minutes looking at the perfectly curated 'Insta Mums' to see the enormous pressure there is on women to nail parenting. We've got to do a better job of saying there's no one 'right' way to do it, and all of us are going to be a little messy and a little flawed in our approaches.
Q: What was the most challenging aspect of making this second season of Sonia & Cherry?
Making adjustments for working through COVID was challenging; we were supposed to shoot in May 2020, then had a couple of stop-starts where we thought we might squeeze it in, before managing to shoot in July just before we went into the 5th and 6th lockdowns! We did 99% of post-production remotely, and while I think the outcome was the same then as if we had done it in person, there was definitely an inefficiency to it; it would have been so much easier just being in a room. Saying that, I'm really proud of what we achieved under challenging circumstances.
Q: what are the strengths Naomi brings to your partnership?
Naomi has the best qualities of a creative producer; she won't be shy about offering up notes, but she doesn't smother the creative process; she knows how to facilitate it. And she has excellent creative instincts. She's also an extremely hard worker; when you're in production, having Naomi by your side is a huge win for everyone. She gets things done but is extremely kind and considerate – crews love working for her and with good reason, she gets things done but has everyone's best interests at heart.
Q: What's the hardest thing about working together? And the best?
The hardest thing is that we don't have the luxury of working full-time on Cloudberry Films, and we rarely have a period where the two of us both have equal capacity to focus on it. I have a busy full-time job and Naomi works most of the year in production, so we've just had to accept that and make the most of the gaps where we can work together, or just manage the juggle!
The best thing is that we both share similar values, creative ambition and similar age children. We're both sharing a professional and personal journey and I can't imagine having pulled off Sonia & Cherry without Naomi. It makes you more resilient and courageous when you have someone so supportive by your side.
Q: Do you ever have creative conflicts? How do you solve them?
I don't think we've ever had conflicts, but certainly as a partnership we've had to do lots of problem-solving and decision-making, and I'm sure along the way we have had differing opinions; whether that's on the size of font in credits, the best way to articulate a story pitch or how an edit is coming together. I think what works for us is that we both have a similar level of attention to detail (which is a lot!), and we trust each other. I think when you have trust and goodwill in a partnership you're able to compromise – if something is really important to the other person then you trust their opinion; and vice versa. I think we're able to work through what each other feels strongly about and reach consensus.
Q: What inspires you?
Great storytelling in any form is incredibly inspiring and energising, but the stand-out inspirational moment for me this year was spending 5 days shooting Sonia & Cherry after an 18 month delay and weeks of working remotely with people across a video screen. Just being in the room with people was amazing.
Q: Proudest career moments both with Cloudberry, and in your other work?
I think I feel proud every time we complete something; it's never easy regardless of whether you have funding or not, and it's a mammoth team effort to get something in the can and then out in the world. I'm proud of that achievement. Surprisingly in my other work life I'm the Head of People & Culture for a small government agency; and keeping everyone buoyant during lockdowns and fairly sane is something else I'm quite proud of.
Q: What makes you angry or frustrated about the Australian screen industry?
I think being angry isn't a very productive emotion, but I've definitely felt frustration. There's a lot of good intention out there but we still don't have really viable pathways for emerging talent to make that leap from smaller scale projects to larger ones; I feel that frustration particularly as a director and of course as a burgeoning production team.
On the flip side, there's a lot more opportunity for emerging filmmakers – even 10 years ago the pathway would have been pretty narrow: make a short film and then try to make a feature. in 2021 there are so many different avenues to launch your content, and we're seeing more diverse storytelling which is fantastic.
Q: Best professional advice you've ever been given? And the worst?
I've just come from a lunch with a producer who said 'Elephants fuck Elephants; and that's a fact', meaning that if you want to play in the sandpit with the big guns, you've got to bring in your own big guns. That advice might feel harsh to some, but it's good to know the reality of the industry you're working in, and then the trick is to find a way to make it work for you; as they say in Survivor – find a crack and wedge it open.
Worst advice I was ever given was to get the beauty spots cut off my face; multiple agents in Los Angeles wouldn't sign me unless I got them cut off. I didn't get them cut off. I also didn't get any work in L.A. but I made the right decision! (years later I did get them removed but for very different reasons).
Q: Biggest challenge for Cloudberry in 2022?
Our challenge will be to work out how we can capitalise on the momentum of Sonia & Cherry, and what we choose to develop with the limited capacity we have. It's an exciting challenge to have, and I can't wait to get stuck into it.
Q: What have you been watching and loving in 2021 in film and TV, local or international?
Like many others, I couldn't watch anything too intense during 2020 and 2021. During lockdown last year I finally watched all seasons of VEEP, and then watched it all again this year. The craft in all aspects of that show is at such a high level. I also watched every single movie in the Marvel universe which means I can now enter the rampant debate around whether Marvel movies are the scourge of the film world or not! I'm now catching up on a bunch of Australian TV – there's so much! New Gold Mountain, Fires, The Newsreader. I'm really enjoying it.
NAOMI MULHOLLAND
Q: How would you describe what you do to someone at a party?
Naomi: My standard line is I work in film and TV doing all the organisational stuff!
Q: When did you know you wanted to work together?
Victoria and I met when we were both working on the police drama, Rush. At the urging of Rush cast member Jolene Anderson, Victoria asked me to produce a short film she had written about a cult mass suicide on an ice skating rink! After spending two days side by side shivering in the cold, we realised we worked well together, even under duress, and thought we might explore the idea of setting up a little company to do more work together.
Q: What does Cloudberry Films mean to you? What is your philosophy or manifesto?
Cloudberry Films is important in providing us a means for telling the stories we are interested in. We would also like these stories to entertain and encourage conversations about things that may not otherwise be discussed.
Sonia & Cherry, in particular, gave us an outlet for the stresses and frustrations of being parents of young children. We were fortunate to have had our children around the same time, and I certainly relied on our regular (de-caf) coffee catch ups where we could vent about whatever difficult stage we might have been in at the time!
Q: How is Season 2 different?
Season 1 was very much done on the smell of an oily rag. We shot four 2-3 minute episodes in one day with minimal crew.
With the help of Screen Australia funding, we were able to complete 6 episodes of 7-8 mins each, introduce new characters and expand the scope of the series with new locations and including using REAL children in our final episode. In Season 1, we never see the children, creating their presence with clever and specific sound design.
Q: Are we getting more honest about competitive mothering and maternal stress?
It does feel like the realities of parenting are becoming more acceptable to discuss, and in the light of the mental health concerns that have come out of covid lockdowns, I think we are finding people are more able to admit that things can be hard and we don't always cope as well as we might like.
Q: What is it about Victoria's work that inspires you?
Victoria and I are interested in telling similar stories and we have a similar approach to our work. She is always coming up with great ideas for stories and her motivation to always create is very inspiring! I mean she gets up early most days to write!!!
Q: What was the most challenging aspect of production?
COVID! We were awarded funding in September 2019 and production had to be moved twice due to Melbourne lockdowns, until we finally managed to shoot in July 2021, just before Melbourne 5th snap lockdown. Doing Post remotely has also been tough it is more time consuming to have to write notes for things to change rather than all be in the same room to discuss and try things on the fly.
Q: What's the hardest thing about working together? And the best?
The hardest thing for me is having to say no to Victoria when the scope of things may be out of our reach! That said, Victoria and I usually have good chats about pros and cons and usually end up agreeing quite easily on the way forward. And in many ways, that is the best thing! We have a similar approach to things, and we are both quite realistic in what can and can't be achieved. We are a good team and I think that knowing each other so well means that we can each pick up things when the other gets under the pump with other commitments.
Q: Do you ever have creative conflicts?
In truth, we've never really had any major creative conflict, but I feel that should anything come up, we would be honest with each other and discuss it to find a solution.
Q: What inspires you?
Gosh, this is always something I find hard to answer succinctly. I am inspired by creativity, authenticity and people's ability to pull things off!
Q: Proudest career moments both with Cloudberry, and in your other working life?
Getting a Screen Australia funded web series completed is huge for me. I've been lucky to work on so many great projects that it's hard to pick only one, but a couple of other jobs that I remember with great fondness are Rush and The Doctor Blake Mysteries.
Q: What makes you angry or frustrated about the Australian screen industry?
It's tough trying to balance family with the screen industry. Screen professionals dedicate so much of their passion and soul into their work that sometimes their personal lives are put on the back burner and that is concerning to me. Trying to juggle the long hours of work alongside a home life with two small children and a partner is never easy, but with our recent experience with covid lockdowns, I can see that working remotely can be possible to some extent, and perhaps we need to look at a little more flexibility on that front. Obviously this is hard for those on set, but if we can start making small changes, we might be able to get to a point where we have a bit more of a work/life balance.
Q: Best professional advice you've ever been given? And the worst?
Goodness. The best: Never be afraid to ask questions. The worst – can't think of anything right now.
Q: Biggest challenge for Cloudberry in 2022?
Getting another Cloudberry Films project into production!
Q: What have you been watching and loving in 2021 in film and TV, local or international?
I'm really enjoying the latest season of Succession and have just finished Foundation which is really interesting given that it is based on an Isaac Asimov story from the 1940s. Physical was a surprisingly satisfying find. Funnily enough there's an Australian aspect to each of these shows.
I've also been watching heaps of French shows: L'Opéra, Call My Agent, Lupin, Emily in Paris. On the local front, The Newsreader was a great walk down memory lane and I have just started watching The Unlisted to see if it is ok for my 8 year old. I also enjoyed Bump and went back to watch The Kettering Incident even though I knew I'd be annoyed by the lack of closure at the end as there is no second season!
Q: Where can we find you, and how can we watch your shows/films?
Find us at www.cloudberryfilms.com; watch Sonia & Cherry at www.youtube.com/soniaandcherrytv and The Kingdom of Doug at www.vimeo.com/victoriathaine/kingdomofdoug