Chello Content
Midweight Video Editor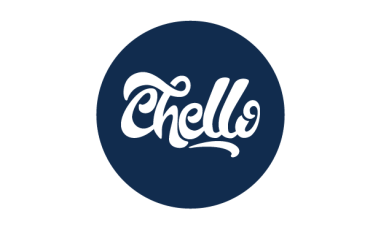 Are you passionate about telling stories through film?
We're on the hunt for a Video Editor to support the video team in delivering projects, under the supervision of the Senior Video Editor and across a variety of clients. You will have refined creative skills and experience to creatively, efficiently and effectively deliver video edits.
We are looking for a talented video editor, with editing, storytelling & post-production flair, to support our Senior Video Editor. You will need a high technical skill level across all elements of post-production, with a critical eye for detail. Plus the ability to thrive in a fast-paced environment, and balance efficiency & organisation with creativity. You'll be comfortable working independently and as part of a team, quick to take the initiative, and take a pride in your work. If this sounds like you, click below for the job description & to get in touch.
At Chello, we believe in creating a community of strong relationships, between both the people that we work with and with our clients. We're passionate, creative, thoughtful, fuelled by teamwork, and above all are committed to our purpose; helping brands find their role in society, and together, making it meaningful.
About Chello: 
Hybrid working model (2 optional WFH days, 3 office days)

Individually tailored career progression plan and a formal promotion system

Allocated Learning & Development budget for every person, with scheduled time to complete, and an opportunity to apply for further learning via the Chello Scholarship

Tracking hours & rapid solutions at weekly meetings to support work-life balance

Be an active and contributing member to our company with input into quarterly initiatives

Annual retreats

Monthly "Breakfast Club" all-hands get togethers

Access to the annual employee profit share

Access to our Employee Assistance Program including counsellors if needed

Potential quarterly social days

And most importantly, a culture with people at its core, where everyone lives and breathes the values and enjoys a chat over the Friday Cheeseboard.
A bit about the role:
You will be responsible for post-production across a wide range of projects, crafting edits to effectively deliver the messaging in the best way possible.
For smaller projects, you will be responsible for entire project delivery, which includes planning, cataloguing footage, media/file management, project file management, assembling draft cuts through to final edits, including music-sourcing, colour grading, sound design/mixing, captioning and final delivery.
You will also: Conduct desktop research to better understand and inform creative requirements, demonstrate strong problem-solving skills and interpret briefs into effective creative solutions.
A bit about you:
Has a strong portfolio of work, showcasing creative capability and thinking

Demonstrates good storytelling abilities and a flair for establishing key themes and messaging

Experience with sound design and audio mixing

Has a talent for sourcing and editing stock music tracks

Confident in overseeing the technical quality of end product

Must have advanced knowledge of Adobe Premiere Pro

Experience working in Adobe After Effects, Adobe Audition, Adobe Photoshop, Davinci Resolve, Google Drive, Docs, and Slides is ideal.

Ability to work under pressure with high attention to detail

Excellent communication skills and a can-do attitude

Understanding of video editing trends and social placements

Understanding of file formats/codecs and video output specifications

Are able to work collaboratively across the department and agency

Are able to work across multiple projects at a time

Has a passion for creativity in your approach to every project, and take pride in your work
When it comes to this role, above all we're looking for the right fit. We value coming to work each day with people we love working with. We're forever curious, finding new and better ways to do things and we're big on delivering on our word.
Please apply only if you thrive off a fast pace, love all things film, have great attention to detail, want to invest in your own continual learning, and are keen to get stuck in.
We are open to part-time or full-time contracts.
Must have full working rights in Australia, based in Redfern.
To apply, please send through a cover letter and CV along with an editing showreel and/or clear examples of your video editing experience to workwithus@chello.com.au.